Aroma-therapeutic home fragrance
Find them the perfect Gift...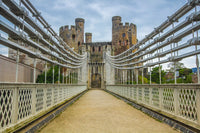 Handmade in Conwy, North Wales
Natural artisan products crafted using nature's finest ingredients for feel-good relaxation and indulgence. Absolutely no 'nasties' and never tested on animals.
Gwnaed â llaw yng Nhonwy, Cymru. Cynnyrch naturiol safonol. Defnyddir cynhwysion o'r radd flaenaf ar gyfer creu cynnyrch unigryw i ymlacio a boddhau'r corff a'r enaid.
ABOUT US